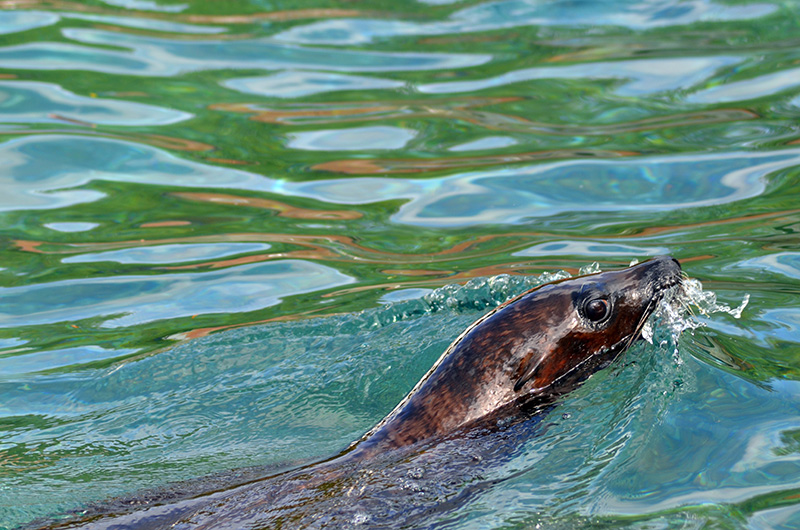 It's not easy to get a picture of a diving sea lion when you've got to auto-focus the heavy lens and keep an eye on a dashing little boy!
(x-posted from The Essential Kit)


The Poison Court
Words today: 528
Words total: 15,832
Reason for stopping: Out of steam, and need to move furniture around before I go to bed.
Darling: Yes, but it's a bit long.
Tyop: n/a
Mean things: A letter from your ex, unsettling surprises

I'm at that awkward stage of plotting where I need to figure out who's scheming about what, and who knows about it, and how much of what Our Heroes are being told is the truth. And I'm starting to worry that it's taking too long to get some of our antags onscreen. But that's a second draft problem.

---

Despite an oppressive case of mope that lasted several days, this week has been pretty damn good. I climbed like a badass on Monday, deadlifted my own bodyweight* on Tuesday, danced on Wednesday**, and today not only did I make progress on a steeply overhung V2, but I also got a real massage, which has turned my neck into something other than a twisted column of hate. And, even better, when I went in for a PT session this morning, my therapist was so pleased with my progress and with my interval running strategy that he turned me loose. So I am running again. For five minute intervals and no more than 1.8 miles at a stretch yet, but sweet fishes is that better than not running at all.


* My current, still swollen with Portland evil, bodyweight, even. This means when I shed the bloat, I'll be lifting more than bodyweight. Assuming I don't put on more muscle by then.

** Walking from my car to the club, I lost the sole to one of my boots. Faced with the option of either sitting down on the sidewalk and sobbing or ripping off the other sole and dancing anyway, I chose the latter. It wasn't even the least comfortable footwear I've danced in.

Remember when I posted metrics here? I'm not sure I do either.
Current Mood:

calm

Current Music:

David Bowie - Cat People (Putting Out Fire)
Then I was thinking, I know that I stopped writing it back then when I got to way before 50k words (more like 18,227 according to Scrivener's wordcount), but maybe I could publish that and perhaps, if there was enough interest,
I cannot do a podcast because it is hard to record audio or video in the middle of the night in a flat made of paper-thin walls and so I am most likely to post the text in portions/episodes.
Towards the end of what I have written (nowhere near the end of what is in my head - and I have recently had new plot ideas) I went off on a tangent and so I may edit as I post and excise that tangent.
My earlier posts about this story:
Would you read this?
Excerpt: Justified Means? (working title)
So, would that be of interest to people? Any thoughts or ideas about how I could publicise and perhaps monetise this?
I have been reading a lot of web fiction and listening to a lot of free audiobook podcasts, both whilst knitting. I am hoping to do a podcasts rec. post at some point.
Current Location:

Horsham, UK

Current Mood:

contemplative


It was pointed out to me - quite forcefully, in fact - that this was small use to anyone else, or indeed to myself if I couldn't remember it. Other people, I was reminded, post theirs in public fora, to make the information accessible to others, with the possible notion of attracting a small, y'know, audience.

So okay, then. Here is my BayCon schedule:

1. Themed Reading: Urban Fantasy on Friday at 9:00 PM in Central
(with Kyle Aisteach, Pat MacEwen, Kevin Andrew Murphy, Jaymi Elford)

Authors read from their urban fantasy works.


2. Location, Location, Location -- Setting Your Story in an SF World on Saturday at 9:00 AM in San Tomas
(with Juliette Wade, Paul Carlson, Todd McCaffrey (M), Aaron Mason)

Your character has to live somewhere, and that somewhere needs to support the story. It's embarrassing to have a great scene all written involving bikini- or Speedo-dressed people, when they all live in the first permanent settlement on the Moon, and only landed yesterday....


3. How to Tell one Dragon from another on Sunday at 11:00 AM in San Tomas
(with Audrey Kiehtreiber (M), Irene Radford, Pat MacEwen)

Not all dragons are alike. Simple mistakes in taxonomy can be dangerous to your plot line or your health. In this panel we present dragons in history, myth, and folklore from Asia to New Age.


4. Themed Reading: Fantasy on Sunday at 9:00 PM in Alameda
(with Jenna M. Pitman, Pat MacEwen, David Friedman)

Come listen to authors read from their fantasy works.


...Apparently I have two separate readings, Friday and Sunday. I shall read two separate things. Y'all should definitely come to both. A panel is only a panel, but a good piece of work is a Smoke.
This morning over coffee, Julie said "So what's your Baycon schedule, then, Chaz? Interested parties want to know..." - and I did have to confess that I didn't know. I knew I had it somewhere; hell, I'd even read it...
So, this morning I ran away from home. Well, ish. I parked myself in a coffee shop for a few hours. I like Epoch quite a bit now. It's changed, or maybe I have? The music isn't as loud as it used to be. The 'twenty-something meat market' atmosphere is gone too. It's now... comfortable. The food kind of sucks--it still tries to hard to be hip. So, your options are sweet crap or veggie stuff with the odd high calorie/high carb non-veggie item. Unlike the FlightPath, however, I can reliably get a table or seating, if I'm there at a specific time. Also? The vintage clothing stores in the area have replicated. There are now enough on the street that the area has become something of a 'vintage row.' I love that.[1] It's inspiring. That said, I got in 1200 words today. That's a respectable amount--especially considering there was a lot of editing going on. I'm happy with how the story is working out too.
Meanwhile, the garden progresses. I've got sweet corn, pumpkin, and beans planted. All but the beans have sprouted. (they were the last in the ground.) With the exception of the chamomile and the dill[2], the herbs are growing nicely. And my morning glories are sprouting up all over the box window pot. (They're about 5" tall now and I can see them over the rim of the box from my writing window.) No blooms yet. It's early days. It's funny to think I used to kill everything I touched. I guess growing things takes practice like anything else. Dane loves to laugh at me because I visit my plants multiple times a day.
All in all, there's not much else going on. I'm percolating a couple of longer, more serious posts: one on the current state of the U.S., and it's infrastructure. Another about feminism that will be a guest post on another site.
-----------------------------------------
[1] Plus, there's a vinyl record store that carries refurbished turntables. I'm so wanting one.
[2] They aren't dead yet.
Laydeez do Comics – Dublin had its first meeting last night, and it was a blast. Our guests – Sarah McIntyre, Maeve Clancy, and Alan Nolan – were fun, witty, and full of smart insights and tips about the business of comic books.
We had an attentive audience, and a good question and answer session afterwards. Dublin writer Catie Murphy brought along ginger snap cookies (recipe here), which were a big hit will all the attendees. Lynda and I were touched by Catie's generosity and thoughtfulness.
Galwegian artist Róisín Curé travelled a long distance for the meeting, and also did the honours of documenting the event through a cartoon. She laboured away for most of the evening, and her results are beautiful.
Lynda and I were blown away by the quality of our guests' presentations and the knowledge they shared. It was better than either of us could have hoped. It's a long haul up the stairs to the Odessa Club rooftop bar, but it's definitely worth the effort.
Afterwards people chatted in the room, and then in the bar. It was lovely to meet new people who are passionate about the vast potential of comic books.
The next meeting is probably going to be in September, and we'll announce more news about that in the coming weeks.
Thanks to our guests and all who attended!
~ Originally published at Splinister. You can comment here or there. ~
I recently did two designs inspired by  Mid-Century Tiki fabric!
They coordinate with each other. One has trees, hula girls, drinks and tiki gods, the other just tiki gods. I hope you like them!
They're available as wallpaper, wrapping paper and fabric on Spoonflower.
You can buy the mixed Mid-Century Tiki fabric here: http://www.spoonflower.com/fabric/2005559
And the Tiki God fabric here: http://www.spoonflower.com/fabric/2012470
ALSO: Please help me out by voting for it on Spoonflower! (The contest is Mod or Mid-century) —- You can vote here: http://www.spoonflower.com/contest_voters/new?contest_id=191
Mirrored from - AimeeMajor.com.
I've talked about this before, my terribleness. I have even posted some of my terribleness
on the internet.
By the time I went to college, I had over thirty manuscripts in various stages of finishedness laying around my house and ancient computers and word processors.
Terrible manuscripts.
I wrote novels about talking dogs, missing unicorns, IRA men with hearts of gold, enchanters with hearts of gold, missing dogs, missing IRA men, kids in suburbia who were secretly kings and queens, fairies who were secretly kids in suburbia, missing kids and fairies in suburbia . . .
Terrible. They were all terrible.
But like I said. I've talked about all of this before. I wrote a lot of terrible books. Today, however, in honor of
Entertainment Weekly sharing the prologue of
The Dream Thieves
, I am going to share with you a very particular terrible book from my teens.
The Dream Thieves.
Well, it wasn't called that, back then. It was called
The Llewellyn Society
. And Gansey was an old man. And Ronan was named Sean. And Noah was named Adam. But it was the same. Mostly. Sort of. Except that I wrote this version longhand. Oh, and it was terrible.
Here are some more terrible bits that sort of stayed the same in the real version, only I made them less terrible.
And a typed version from a few months later:
And like I said. Here is the prologue of the real version, and an interview, over at
Entertainment Weekly
.
I hope you find it not terrible.
(And as a reminder, you can pre-order a signed and painted in version of it over at
Fountain Bookstore
)
(and here is what I am painting in each of them:
)

I used to write terrible books all the time.
Current Music:

"Better Off Dead" - ZZ Ward